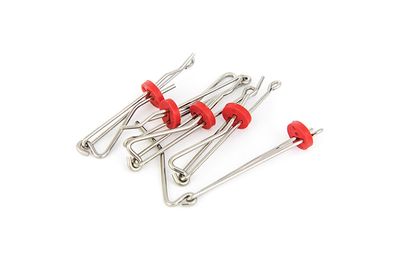 Gemini Genie Breaker Clips
Gemini Tackle
$7.95
or 4 interest free payments of $1.99 with
learn more
Genie Breaker Clips - 5 per pack
A 'weak link' that's as strong as they come!
Fishing around rocks & debris there is always a good chance that your sinker will not be able to release so you could lose your sinker, rig and possibly one heck of a catch!
The solution is to include a weak point in your rig in which you will only lose the sinker if it gets snagged.The Genie Breaker has been designed to meet these needs with safety foremost.(The last thing you want is for the sinker to release whilst casting) Used with care, we feel the breaker is the only 'rotten bottom' clip with enough inbuilt safety features to be suitable for distance casting. We recommend using about 15lb line for your weak trace or line at least weaker than your mainline. Directions for use are on the packets.
SKU: 03016