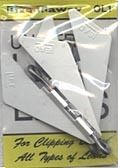 Breakaway Lead Lifts
Breakaway Tackle
$6.40
or 4 interest free payments of $1.60 with
learn more
Out of stock
Breakaway Lead Lifts - pack of 2
Packs contain two Lead Lifts and two Stainless Steel Oval Split Rings. The Lead Lift will fit any sinker with an eye. The Lead Lift will lift the sinker to the surface while winding back in which reduces the risk of snagging on retrieval.
Simply clip the Lead Lift behind the sinker using the oval split rings provided.
SKU: 0L1