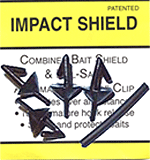 Breakaway Impact Shields (4pc or 10pc pkts)
Breakaway Tackle
$10.95
or 4 interest free payments of $2.74 with
learn more
Breakaway Impact Shields Patented!
Available in Pkts of 4 or Pkts of 10
Clip your hook to the Breakaway Impact Shield and you can be confident that the bait will stay intact throughout the hardest of casts. Yet as soon as the rig hits the water, the Impact shield automatically ejects the bait. No more wondering whether the hook on the seabed is still tangled in the bait clip. The Impact shield operates mechanically. The hook is thrown clear to leave your hook length clear and free from the rig.
Just slide it on to the rig behind the sinker, add a stopper bead and you are ready to cast further and catch more fish because more bait is on the hook and less on the angler next to you.
SKU: 0IS1