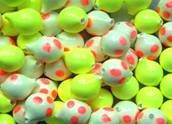 Floating Beads
Tackle Tactics
$4.90
or 4 interest free payments of $1.23 with
learn more
Floating Beads - Choose Size
These floating beads act as attractors to give bait more lift and better movement in the water, producing more and better fish on a regular basis. The white spotty ones have Extremely high luminousity. - 5 beads per pack
Put onto your trace near the hook and watch the 'magic' happen!
Lumo Spotty - 6mm
Lumo Spotty - 8mm
Lumo Spotty - 10mm
Yellow - 8mm
Yellow - 10mm
SKU: 03521810Y