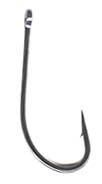 Gamakatsu O'Shaughnessy Hooks
Gamakatsu
$8.00
or 4 interest free payments of $2.00 with
learn more
Gamakatsu O'Shaughnessy Hook
This classic hook pattern is very versatile from use as a
bait hook to a lure hook for Marlin or Tuna. Other popular uses are as single
hooks for jigging lures to use as Saltwater Fly hooks. This pattern is
non-kirbed and features a straight eye on a medium shank length hook. The wire
gauge is heavy but features the sharpest point possible due to Gamakatsu's
famous chemical sharpening.
SKU: 06OS