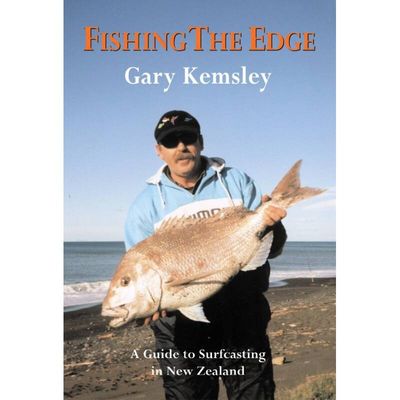 Fishing The Edge
$29.95
or 4 interest free payments of $7.49 with
learn more
Fishing The Edge
Author: Gary Kemsley
Size: 240 x 165mm
96pp
Colour and B/W illustrations
Price $29.95
New Zealand is surrounded by over 17,000km of coastline. Surf-caressed
sand and shingle beaches, rocks that fall into deep water, all provide a stage
for New Zealand's most participated in sport, surf and rock fishing.
It is hard to find a spot in New Zealand more than a day's drive from the
coast making it accessible to all who want to try their hand at catching a
fish. New Zealand's coastline is virgin by world standards and despite
commercial activity we still have healthy populations of fish available made up
from a number of species that inhabit our coastline.
The basic set-up is cheap and ongoing costs are minimal, so anyone can get
involved, fishing the edge.
In this book you will learn the basic knowledge required to be successful,
from where to go, baits to use, reading the beach and the different types of
beaches, fishing around the rocks, tackle, rigs, accessories, fishing lures,
casting, night fishing, in fact everything you need to know for successful surf
casting.
Gary Kemsley is author of six books about fishing in New Zealand and a
columnist for New Zealand Fishing News, he lives in Napier.
SKU: 0FTE