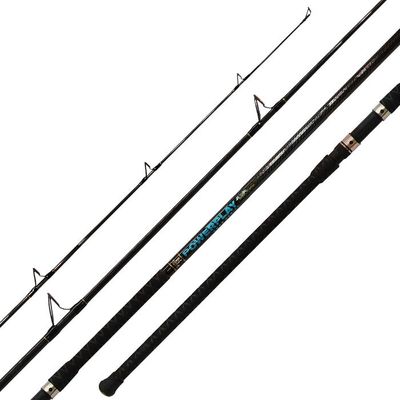 Kilwell NZ Powerplay 1402 222 Surf Rod
Kilwell
$999.00
or 4 interest free payments of $249.75 with
learn more
Out of stock
Kilwell NZ Powerplay 1402 222 Surf Rod

Features: Kilwell Powerplay 222FXL is the perfect choice for the serious surfcaster who aspires to
cast further and consistently put bait out into the top fish feeding areas.
The 222FXL blank is rolled on the same mandrel as the contest winning Distance 222 model,
but with a softer more sensitive tip section to feel the bites and greatly improve hook set.
The combination of a Twill Weave Power Butt and new technology carbon tip give these rods
huge reserves of power and strength while the slimline profile means that the all important balance.
Blank loading and power transmission needed to achieve a long cast are inbuilt into the rod.
The rod incorporates the latest ALPS GSXNG stainless, deep pressed, gold zirconia guides,
for long life and castability.
The medium to fast action Powerplay 222FXL, has a cast rating of 115 -170 gram,
and will give the average angler an unfair advantage try one today and prove it to yourself.
Like all Kilwell branded products these rods have a Kilwell Lifetime Warranty.
Proudly made in New Zealand by KILWELL RODCRAFT.
4.27m 2 piece blank.
Please allow 1-3 days for delivery
SKU: 0PPLAY222FXL