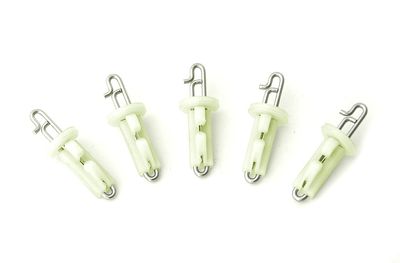 Gemini Glow In The Dark Splash Down Solo Bait Clips (5)
Gemini Tackle
$8.00
or 4 interest free payments of $2.00 with
learn more
Gemini Glow In The Dark Splash Down Solo Bait Clips (5)
NEW & IMPROVED - NOW TAKE HOOKS: #1, 1/0, 2/0, 3/0, 4/0, 5/0, 6/0
New to the Gemini range is the glow in the dark Splash Down Solo bait clips. A revolutionary bait clip that will lock, not clip, your baited hook behind your sinker. Excellent for off the ground casting and will improve casting distance and bait presentation.
The a strong glow in the dark facility that will last up to 45 minutes per charge and is easily rechargeable with torch, flash, sunlight or similar.
2009 saw the launch of the revolutionary Splash Down Sinkers, a sinker system that would allow anglers to not only clip, but lock their baited hook directly behind the sinker until impact with water. The Splash Down Sinkers proved to be an instant hit, and to this end it became apparent that the next step would be to offer this revolutionary hook release system in the form of a lead link. 'So Welcome Gemini's New, Precision Engineered, Fail Safe, Universal, Secure Bait Clip. Enjoy!
(N.B. We do not recommend using these Splash Down Solo Bait Clips with the sinkers that have the extra large tail wire 'eye' !
It has been reported that the large eye can cause the sinker to unclip. These are designed to be used with the normal standard tails that have the standard smaller sized eye.)
SKU: 0G2100/1